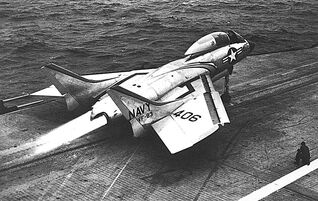 The
Vought F7U Cutlass
was a United States Navy aircraft carrier-based jet fighter and fighter-bomber of the early Cold War. It entered service in 1952 and was produced until December 1955
[1]
. A total of 320 were built
[2]
.
The single-seat Cutlass fighter had a very unusual tailless, swept-swing design. It was purportedly developed using American research into the jet designs of the Arado company, who was responsible for designing various jet aircraft for Germany before the fall of the Third Reich[3].
The untraditional design of the Cutlass suffered from multiple technical and handling problems. The problems experienced in testing the Cutlass may have been due at least in part to the design being "advanced," built to apply new theories of aerodynamics. In any case, its very poor safety record led to its removal from front-line service in 1956.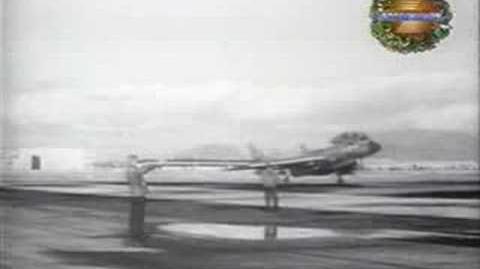 Originally known as the Vought V-346, the F7U was the winning entry in a US Navy competition launched on 1 June 1945. This called for a single seat shipboard fighter, capable of 600 mph (966 km/h) at 40,000 ft (12,190 m). A trio of prototypes, each powered by a pair of Westinghouse J34-WE-22 engines, were ordered on 25 June 1946 with the designation XF7U-1. The first of these made its initial flight on 29 September 1948, only to crash a few weeks later due to loss of control.[4]
Specifications
Edit
Crew: 1
Length: 12.586m
Height: 4.27m
Wingspan: 12.1m/6.8m(folded)
Height: 4.27m
Powerplant: 2 x Westinghouse J46-WE-8B after-burning turbojet
Top speed: 1,122km/h
Armament: 4 x M3 cannons + 4 hardpoints with AAM-N-2 Sparrow I air-to-air missiles (fighter configuration)
References
Edit
Ad blocker interference detected!
Wikia is a free-to-use site that makes money from advertising. We have a modified experience for viewers using ad blockers

Wikia is not accessible if you've made further modifications. Remove the custom ad blocker rule(s) and the page will load as expected.