Vought F-8 Crusader
Talk

0
811pages on
this wiki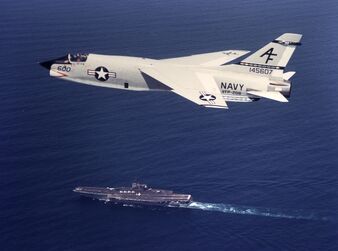 "When you're out of F-8's, you're out of fighters."
- F-8 Pilot Insignia
The Vought F-8 Crusader was a single engined fighter designed to be a supersonic, carrier based, air superiority fighter. It's first flight was in 1955, and it entered service in 1957. The final examples were retired in 1999 in France.
Details (F-8E)
Edit
Length: 54 FT 3 in
Wingspan: 35 FT 8 In
Maximum Speed: Mach 1.86 (1,225 MPH)
Thrust to Weight Ratio: 0.62
References
Edit
The Encyclopedia of mordern Warplanes, Bill Gunston