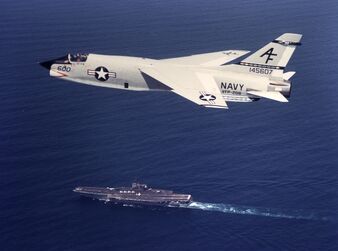 "When you're out of F-8's, you're out of fighters."
- F-8 Pilot Insignia
The Vought F-8 Crusader was a single engined fighter designed to be a supersonic, carrier based, air superiority fighter. It's first flight was in 1955, and it entered service in 1957. The final examples were retired in 1999 in France. The Crusader, with its four 20 mm cannons, was called the last gun fighter.
France-F-8E(FN)-42x-17x later upgraded to F-8P standard.
Philippines-F-8H-25x along with another 10x used for spares.
Details (F-8E)
Edit
Length: 54 FT 3 in
Wingspan: 35 FT 8 In
Maximum Speed: Mach 1.86 (1,225 MPH)
Thrust to Weight Ratio: 0.62
[1]
700 × 286 - gaetanmarie.com [2] 900 × 574 - militaryphotos.net [3][4]
References
Edit
The Encyclopedia of mordern Warplanes, Bill Gunston
Ad blocker interference detected!
Wikia is a free-to-use site that makes money from advertising. We have a modified experience for viewers using ad blockers

Wikia is not accessible if you've made further modifications. Remove the custom ad blocker rule(s) and the page will load as expected.