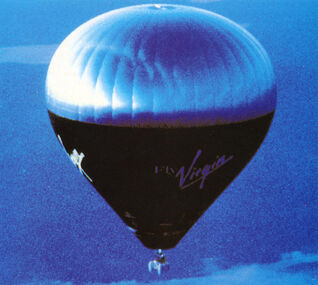 The
Virgin Atlantic Flyer
was the first
hot-air balloon
to fly across the Atlantic Ocean. The balloon was sponsored by the airline Virgin Atlantic, part of the Virgin Group and built by Linstrand Technologies.
It was the largest balloon ever built at the time it was built, with an envelope capacity of 2.3 M-cu.ft. It is a montgolfiere style balloon, a pure hot air balloon, and was powered by liquid propane.
The trans-Atlantic flight lasted over 33 hours, travelling at 130mph over a distance of more than 2900 miles, in 1987. It was piloted by Per Linstrand of Linstrand Technologies and Sir Richard Branson of the Virgin Group.
Ad blocker interference detected!
Wikia is a free-to-use site that makes money from advertising. We have a modified experience for viewers using ad blockers

Wikia is not accessible if you've made further modifications. Remove the custom ad blocker rule(s) and the page will load as expected.