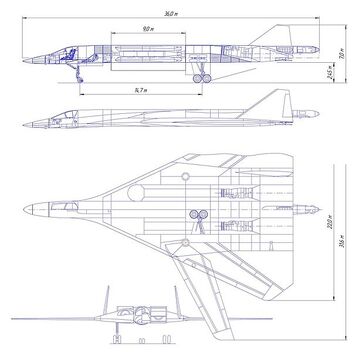 The
Tupolev PAK-DA
is a Russian stealth bomber that is still in development. PAK-DA is the Russian word for
Перспективный авиационный комплекс дальней авиации
in Russian (
Perspektivnyi Aviatsionnyi Kompleks Dalney Aviatsyi
), which means
Prospective Air Complex for Long Range Aviation
.
As of Late 2012, the PAK-DA will be a less ambitious project than the American Next Generation Bomber project in order to maintain the project's affordability.[1]
Description
Edit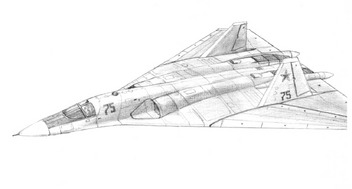 The PAK-DA will be a stealthy subsonic strategic bomber probably equpped with hypersonic rocket weapons, it's expected to enter service in the 2020-2030 timeframe. Unlike the PAK-FA, it has been speculated that it will follow the stealth design of the F-22 Raptor, B-2 Spirit and F-117 Nighthawk, but there is very little evidence to support this as of 2012.
Long-Range Aviation Commander Lt. Gen. Anatoly Zhikharev has said that an unmanned version of the PAK-DA could enter service around 2040-2050[2].
References
Edit
↑ http://www.flightglobal.com/news/articles/in-focus-russians-next-generation-bomber-takes-shape-377251/
Ad blocker interference detected!
Wikia is a free-to-use site that makes money from advertising. We have a modified experience for viewers using ad blockers

Wikia is not accessible if you've made further modifications. Remove the custom ad blocker rule(s) and the page will load as expected.