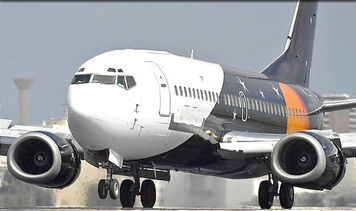 Tricycle landing gear is the most common landing gear scheme in the current days, it consists in two sets of big wheels under the wings and a small wheel in the nose, unlike conventional landing gear, the small wheel in tricycle can retract.
Advantages
Edit
The straight angle allows a complete visibility of the ground.
Disadvantages
Edit
The tail is unprotected from land-scratching, so any over-inclination during take off or landing can cause a tailstrike which could end in serious structural damage.
If the front wheel hits theground first, it could end in a wheel-barrowing that could push all the aircraft weight over the front wheels to damage.
In some modern commercial aircraft there's a fourth set of wheels in the center between the wing ones.
Some other aircraft like Tupolev TU-154 don't retract the rear gear under the fuselage, but in special compartiments in the middle of the wings.
Another light aircraft like Cessna or De Havilland Canada don't retract their landing gear.
Commercial Airplanes
Edit
Airbus A300
Airbus A310
Airbus A318
Airbus A319
Airbus A320
Airbus A321
Airbus A330
Airbus A340
Airbus A350
Airbus A380
Boeing 707
Boeing 717
Boeing 727
Boeing 737
Boeing 747
Boeing 757
Boeing 767
Boeing 777
Boeing 787
Military aircraft
Edit
Grumman F-14 Tomcat
McDonnell Douglas F-15 Eagle
McDonnell Douglas F-18 Hornet
Ad blocker interference detected!
Wikia is a free-to-use site that makes money from advertising. We have a modified experience for viewers using ad blockers

Wikia is not accessible if you've made further modifications. Remove the custom ad blocker rule(s) and the page will load as expected.