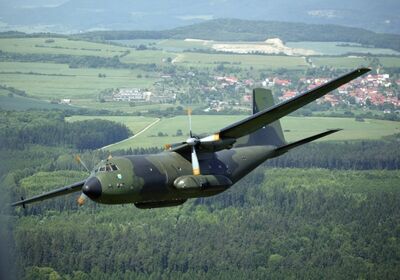 The
Transall C-160
is a twin engine military transport aircraft and the only aircraft manufactured by
Transall
. It is currently the primary military transport aircraft of both France and Germany.
Design work on the C-160 began in 1959 when Nord Aviation, Messerschmitt-Bölkow-Blohm, and Vereinigte Flugtechnische Werke formed the Transall company in order to create a new transport aircraft for France, Germany, Turkey, and South Africa. The aircraft first flew on February 25th, 1963, and entered service in 1967. 214 were made before production ended in 1985. It has been a relatively successful aircraft, only being involved in one fatal crash. The C-160 has been operated as a tanker aircraft, command aircraft, and electronic warfare aircraft, and is still in service with France, Germany, and Turkey. However, it is being replaced by the Airbus A400M in the next few years.
Specifications
Edit
Powerplant: two Rolls-Royce Tyne RTy.20 Mk 22 engines
Maximum speed: 319 mph
Range: 5,504 miles
Service ceiling: 27,001 feet
Crew: 3
Capacity: 93 additional people or 35,275 lbs of cargo.
Empty weight: 63,934 lbs
Length: 106 feet 3.5 inches
Height: 38 feet 3.75 inches
Wingspan: 131 feet 3 inches
Armament: none
Ad blocker interference detected!
Wikia is a free-to-use site that makes money from advertising. We have a modified experience for viewers using ad blockers

Wikia is not accessible if you've made further modifications. Remove the custom ad blocker rule(s) and the page will load as expected.