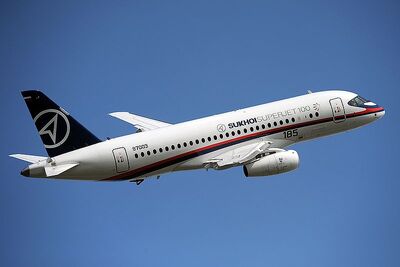 The
Sukhoi Superjet 100
(SSJ 100; earlier designated
"Russian Regional Jet"
, RRJ) is a twin engine, low-wing, Russian regional jet airliner, by the Russian aircraft manufacturer Sukhoi. The aircraft is developed under a joint venture by Sukhoi and other Western partners, like its main partner Boeing and Alenia. The basic design of the Superjet 100 shows similarities to the Embraer E-jet series, the C-series by Bombardier, as well as with the cancelled Dornier 728 and it will be the future competitor of these, while having lower purchasing and maintenance costs.  The first flight of the aircraft took place on 19th May 2008 and it was introduced on 21st April 2011, absolving its first commercial passenger flight from Yerevan to Moscow for
Armavia
.
The Superjet 100 was developed to succeed the aging Russian Tupolev Tu-134 and Yakovlev Yak-42 ; to develop the aircraft, Sukhoi, which is known for its military aircraft, founded "Sukhoi Civil Aircraft", which focuses development on aircraft, designed for civilian use.
Ad blocker interference detected!
Wikia is a free-to-use site that makes money from advertising. We have a modified experience for viewers using ad blockers

Wikia is not accessible if you've made further modifications. Remove the custom ad blocker rule(s) and the page will load as expected.