The
Sukhoi Su-17
(NATO reporting name: Fitter) is a Soviet attack aircraft developed from the [[Sukhoi Su-7|Sukhoi Su-7
]] fighter-bomber. It enjoyed a long career in Soviet, later Russian, service and was widely exported to communist and Middle Eastern air forces as the
Su-20
and
Su-22
.
fighter-bomber. It enjoyed a long career in Soviet, then later Russian service and was widely exported to communist and Middle Eastern air forces as the
Su-20
and
Su-22
.
Development
Edit
Seeking to improve low-speed and takeoff/landing performance of the Su-7B fighter-bomber, in 1963 the Sukhoi OKB with input from TsAGI created a variable-sweep wing technology demonstrator. The Su-7IG (internal designation S-22I, NATO designation "Fitter-B"), converted from a production Su-7BM, had fixed inner portions of the wing with movable outer segments which could be swept to 28°, 45°, or 62. A fixed inner wing simplified construction, allowing the manufacturer to retain the Su-7 landing gear and avoiding the need for complex pivoting underwing hardpoints, and it minimized the shift in the center of pressure relative to the center of mass with change in wing sweep. The new wing also had extensive leading-edge slats and trailing-edge flaps. Su-7IG first flew on 2 August 1966 with V. S. Ilyushin at the controls, becoming the first Soviet variable geometry aircraft. Testing revealed that take-off and landing speeds had decreased by 50–60 km/h (31-37 mph) compared to the conventional Su-7.
The production aircraft was named Su-17 (NATO designation "Fitter-C", factory designation S-32) and was unofficially dubbed Strizh (Стриж, martlet) in service. Aside from the new wing, it differed from its predecessor Su-7 in having a new canopy and a dorsal fuselage spine for additional fuel and avionics. The Su-17 first flew on 1 July 1969 with E. K. Kukushev at the controls.
A total of 2,867 Su-17 and its variants were built, of which 1165 were exported to 15 nations.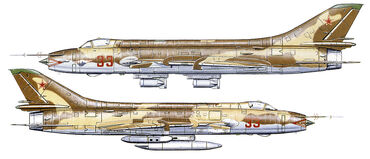 Ad blocker interference detected!
Wikia is a free-to-use site that makes money from advertising. We have a modified experience for viewers using ad blockers

Wikia is not accessible if you've made further modifications. Remove the custom ad blocker rule(s) and the page will load as expected.