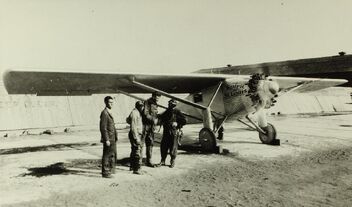 The Spirit of St. Louis is a custom-built single-seat single-engine high-wing all-metal tractor airplane designed to make a non-stop trans-Atlantic flight. It is currently residing in the Air and Space Museum at the Smithsonian Institute in Washington, D.C., USA. It was the first airplane to successfully cross the Atlantic Ocean non-stop, and was piloted by Charles Lindbergh.
Ad blocker interference detected!
Wikia is a free-to-use site that makes money from advertising. We have a modified experience for viewers using ad blockers

Wikia is not accessible if you've made further modifications. Remove the custom ad blocker rule(s) and the page will load as expected.