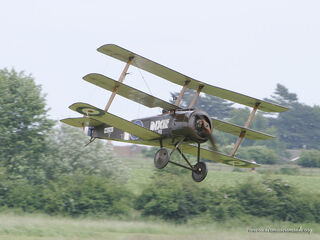 The Sopwith Triplane was a British made fighter during World War 1. It was nicknamed the "Tripehound" or "Tripe" by it's pilots. It was introduced in late 1916, and was immediatly successful. It was withdrawn from service in the later half of 1917 however. Those that still existed were used as trainers until the end of the war. 147 were produced.
Length: 18 FT 10 In
Wingspan: 26 FT 6 In
Maximum Speed: 117 MPH
Service Ceiling: 20,500 FT
Ad blocker interference detected!
Wikia is a free-to-use site that makes money from advertising. We have a modified experience for viewers using ad blockers

Wikia is not accessible if you've made further modifications. Remove the custom ad blocker rule(s) and the page will load as expected.