The Sopwith Dragon was a variant of the
Sopwith Snipe
designed for use by the RAF. It was essentially a
Snipe
with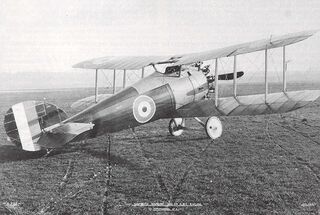 a lengthened body and new engine. At least 76 were built, and it was considered obsolete in 1923.
The first Dragon was the Snipe prototype flown with a320 hp 239 kW A.B.C. Dragonfly I engine in early 1918. The aircraft's speed of 150 mph (241 km/h) led to a production order for aircraft with the 360 hp (286 kW) Dragonfly IA engine.[1]
Length: 21 FT 9 In
Wingspan: 31 FT 1 In
Maximum Speed: 150 MPH
Service Ceiling: 25,000 FT
The ignition system often suffered from defects, but when working, the engines gave good performance.
Most of the produced aircraft were put in storage without their engines, as the engine difficulties proved unresolvable.
References
Edit
↑

World Aircraft Information Files Aviation Partwork. Midsummer Books Ltd. File 907 Sheet 13 (A-Z of Aircraft:S - SOKO G-4 Super Galab (continued) to Sopwith F.1, 2F.1 and TF.1 Camel)
Ad blocker interference detected!
Wikia is a free-to-use site that makes money from advertising. We have a modified experience for viewers using ad blockers

Wikia is not accessible if you've made further modifications. Remove the custom ad blocker rule(s) and the page will load as expected.