The
Soko J-21 Jastreb
is a Yugoslav turbojet attack aircraft, designed by the Aeronautical Technical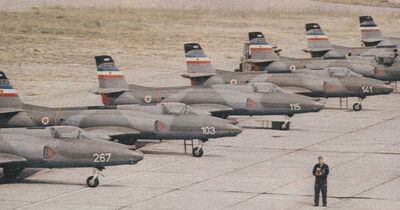 Institute (ATI), (Serbian: Vojnotehnički Institut Beograd (VTI)), in Belgrade and manufactured by SOKO. Derived from the G-2 Galeb advanced jet trainer and light attack aircraft, it was designed in single-seat ground-attack and two-seat advanced flying / weapon training versions.
Design and development
Edit
The J-21 Jastreb was developed as a replacement for the Republic F-84 Thunderjet, which had been the most commonly used turbojet fighter-bomber aircraft of the Yugoslav Air Force until 1967. On the basis of the G-2 Galeb, the J-21 Jastreb was developed as a single seat ground attack variant, flying for the first time on 19 July 1965.
Pilots sit on licence-built Folland Type 1-B ejection seats under individual canopies hinged on the starboard side in un-pressuried cockpits. Instruments and controls are entirely conventional with manually operated flying controls and standard flight instruments.
Powered by a single BWB licence-built Rolls-Royce Viper Mk531. The Jastreb has a conventional Aluminium Alloy stressed skin structure with few or no special features. The relatively thick aerofoil section, though limiting performance, provides room for fuel cells and the retracted main undercarriage which retracts inwards, giving the Jastreb a wide track and imbuing it with excellent ground handling characteristics. The levered undercarriage legs and relatively low pressure tyres allow the Jastreb to operate from un-prepared strips or rough surfaced airfields.
Compared to the Galeb, the Jastreb has a strengthened structure, allowing more weapons to be carried, including three 12.7 mm (0.5 in) Browning AN/M3 machine guns with 135 rpg, mounted in the nose of the aircraft. As well as the nose-mounted guns, the Jastreb is able to carry up to 800 kg (1,800 lb) o
n under-wing pylons, two inner pylons having a capacity of 250 kg (550 lb) for bombs, rocket launchers and additional tanks, while the six outer pylons can carry VRZ-157 127 mm (5.00 in) rockets.
Specifications
Edit
General characteristics
Edit
Crew: 1
Length: 10.88 m (35 ft 8 in)
Wingspan: 10.56 m (34 ft 8 in)
Height: 3.64 m (11 ft 11 in)
Wing area: 19.43 m2 (209.1 sq ft)
Max takeoff weight: 5,100 kg (11,244 lb)
Fuel capacity: 440 kg (970 lb) internal fuel + 435 kg (959 lb) in 2x 275 l (60 imp gal; 73 US gal) jettisonable wing-tip fuel tanks.
Powerplant: 1 × BMB (Rolls-Royce/Bristol Siddeley) Viper Mk 531 turbojet engine, 13.32 kN (2,990 lbf) thrust
Powerplant: 2 × JATO units solid-fuelled rockets, 4.45 kN (1,000 lbf) thrust each
Performance
Edit
Maximum speed: 820 km/h (510 mph; 443 kn)
Cruising speed: 740 km/h (460 mph; 400 kn) at 5,000 m (16,000 ft)
Range: 1,520 km (944 mi; 821 nmi) with tip tanks
Service ceiling: 12,000 m (39,370 ft)
g limits: +8 -4
Rate of climb: 21 m/s (4,100 ft/min)
Guns: 3x 12.7 mm (0.5 in) Browning AN/M3 machine guns
Hardpoints: 8 with a capacity of inboard pylons (2 of) 250 kg (550 lb), outboard pylons (6 of) 50 kg (110 lb),with provisions to carry combinations of:
2x 150 l (33 imp gal; 40 US gal) napalm tank
2x Rocket pods each with 12x 55 mm (2.17 in) rockets
Rockets: 6x VRZ-157 127 mm (5.00 in) rockets
2x 250 kg (550 lb) General Purpose bombs or
2x 150 kg (330 lb) Cluster bombs or
2x 120 kg (260 lb) Cluster fragmentation bombs
Ad blocker interference detected!
Wikia is a free-to-use site that makes money from advertising. We have a modified experience for viewers using ad blockers

Wikia is not accessible if you've made further modifications. Remove the custom ad blocker rule(s) and the page will load as expected.