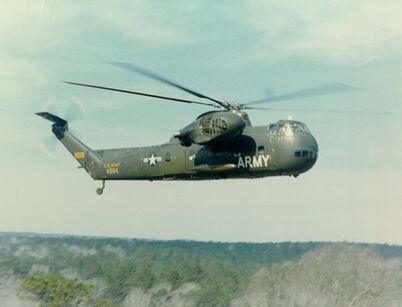 The Sikorsky CH-37 Mojave was a heavy-lift and transport helicopter manufactured by Sikorsky Aircraft.
The Mojave (also known by the company designation S-56) was first developed as a troop transport aircraft for the United States Marine Corps. Design work began in 1951 and the first prototype, known as the XHR2S-1, first flew 18th December 1953. It entered service in July 1956 with the Marine Corps, and shortly after, with the Army, who ordered 94 examples as the H-37A, which were initially assigned to the 4th Medium Helicopter Transportation Company in February 1958.[N 1]
Four of these aircraft were used successfully in Vietnam for the purpose of recovering downed aircraft. At the time, the CH-37 was the largest American helicopter ever made, which allowed it to carry extremely large or heavy loads and assisted in this role. The Mojave also saw experimental use as a sky crane and AWACS aircraft. However, the aircraft had a relatively short service life, being retired by the late sixties due to its large and underpowered piston engines. The S-56 was replaced by the CH-47 Chinook by Boeing. A total of 154 were built, with only five surviving to the present day. 
The Sikorsky S-60 was a sky crane variant of the S-56, which, however, never entered operational status. The Sikorsky S-64 Skycrane was designed as an enlarged variant of the S-60, which managed to enter service.
Specifications
Edit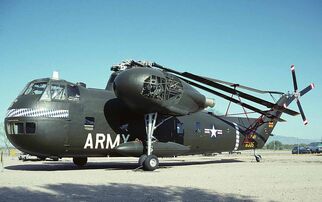 Powerplant: two Pratt & Whitney R-2800-54 Double Wasp engines
Maximum speed: 130 mph
Range: 145 miles
Service ceiling: 8,700 feet
Crew: 3
Capacity: 26 troops or equivilent weight in cargo
Empty weight: 20,831 lbs
Length: 64 feet 3 inches
Height: 22 feet
Rotor diameter: 72 feet
Armament: none
References
Edit
↑

World Aircraft Information Files Aviation Partwork. Midsummer Books Ltd. File 907 Sheet 9 (A-Z of Aircraft:SIAI-Marchetti SF.260/TP (cont.) to Sikorsky S-60 Skycrane and S-64 (H-54 Tarhe) )
Ad blocker interference detected!
Wikia is a free-to-use site that makes money from advertising. We have a modified experience for viewers using ad blockers

Wikia is not accessible if you've made further modifications. Remove the custom ad blocker rule(s) and the page will load as expected.