The
SPAD S.XII
was a single seat biplane fighter, developed by the French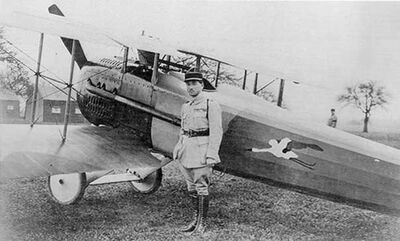 aircraft manufacturer Société de Production des Aéroplanes Deperdussin. It was used in World War I.
Description
Edit
In the year 1917 SPAD equipped two of its successful S.VII aircraft with new engines. The one aircraft was equipped with a Renault 12D engine and the other one with a Hispano-Suiza 8Bc with a power of 200 horsepower (149 kW). A 37-mm cannon was also added to the Vickers machine gun. The new fighter became the prototype of a new aircraft family and had its first flight on 5th July 1917. It was called S.XII by SPAD and 300 aircraft were produced.
Some aircraft were equipped with an even more powerful engine; this one was the Hispano-Suiza 8Bec with a power of 220 horsepower (164 kW).

The aircraft were exported to Russia/Soviet Union, Serbia, the United Kingdom (Royal Flying Corps, one aircraft only), the United States (also one aircraft only) and to the Kingdom of Yugoslavia (Postwar).
Ad blocker interference detected!
Wikia is a free-to-use site that makes money from advertising. We have a modified experience for viewers using ad blockers

Wikia is not accessible if you've made further modifications. Remove the custom ad blocker rule(s) and the page will load as expected.