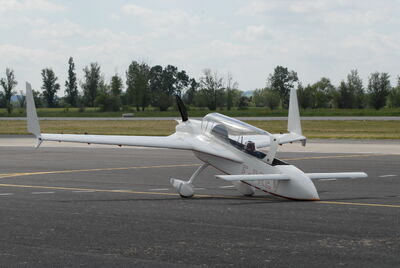 The Rutan VariEze is a single-engine homebuilt aircraft manufactured by Rutan Aircraft Factory. Over 400 have been made and it has relatively high performance for a civilian aircraft.
Design work on the VariEze began in 1974, with the first prototype (known as Rutan Model 31) first flying on May 21st, 1975. After recieving a positive response at the Oshkosh Airshow, the aircraft was redesigned so it could be sold as plans. The following prototype, Rutan Model 33, was shown at the following year's Oshkosh, after which the plans were offered for sale. They continued to be available until 1985.
Specifications
Edit
Powerplant: One Continetal O-200-B engine
Maximum speed: 195 mph
Range: 850 miles
Crew: 1
Capacity: 1 additional passenger
Empty weight: 580 lbs
Length: 14 feet 2 inches
Wingspan: 22 feet 2 inches 
Ad blocker interference detected!
Wikia is a free-to-use site that makes money from advertising. We have a modified experience for viewers using ad blockers

Wikia is not accessible if you've made further modifications. Remove the custom ad blocker rule(s) and the page will load as expected.