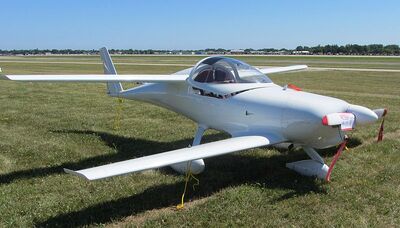 The Rutan Quickie is single-engine homebuilt propeller aircraft designed by Quickie Aircraft Corporation. 
Design work on the Quickie began in 1977.  It was introduced to the public in April, 1978, and production of the aircraft started in June, 1978. Over 3,000 examples have been built. The Quickie has two main variants; a single-seat version, and a two seater version named the Q2. While the kit for the aircraft is no longer produced, many are still flown today.
Specifications
Edit
Powerplant: one Revmaster 2100-DQ engine
Maximum speed: 180 mph
Range: 550 miles
Crew: 1
Capacity: 1 additional passenger
Empty weight: 490 pounds
Length: 19 feet 10 inches
Wingspan: 16 feet 8 inches
Height: 4 feet 5 inches
Ad blocker interference detected!
Wikia is a free-to-use site that makes money from advertising. We have a modified experience for viewers using ad blockers

Wikia is not accessible if you've made further modifications. Remove the custom ad blocker rule(s) and the page will load as expected.