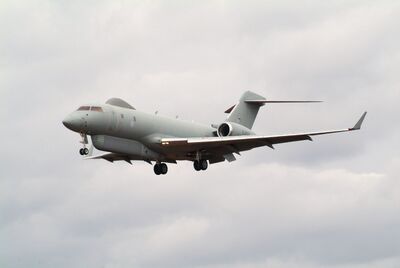 The Raytheon Sentinel is a British surveillence aircraft based on the Bombardier Global Express business jet. 
The Sentinel (originally known as ASTOR, or Airborne STand-Off Radar) came about after the first Gulf War, which proved that effective aerial surveillence was an important part of winning modern battles. Raytheon's design to meet this standard was approved for production in December, 1999, with the aircraft first flying on May 26, 2004. The Sentinel R1 entered service in 2008, and a total of 5 have been built. These have been used in support of operations in Afghanistan and Libya, as well as in support of French troops in Mali. The UK's Strategic Defense and Security Review plans to retire the aircraft after their involvment in Afghanistan no longer requires it, and is planning to offer them to the NATO Alliance Ground Surveillence program.
Specifications
Edit
Powerplant: two Rolls-Royce BR710 engines
Top speed: 570.9 mph
Range: 5,800 miles
Ceiling: 49,000 ft
Crew: 5
Empty weight: 54,000 lbs
Length: 99 feet 5 inches
Height: 27 feet
Wingspan: 93 feet 6 inches
Ad blocker interference detected!
Wikia is a free-to-use site that makes money from advertising. We have a modified experience for viewers using ad blockers

Wikia is not accessible if you've made further modifications. Remove the custom ad blocker rule(s) and the page will load as expected.