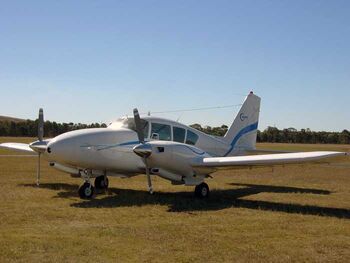 The Piper PA-23 Aztec is a twin engine civil light aircraft.
The PA-23 was Piper's first twin engine aircraft. The first prototype, known as the Twin Stinson, flew on March 2, 1952. Production of the aircraft began in 1954, as a 4-5 seater version then known as the Apache. The cabin was later enlarged to hold 6 seats, at which point it became known as the Aztec. Production continued until 1981, at which point almost 7,000 had been produced. The PA-23 was a popular business aircraft, and also saw use in recreational aviation and by various militaries as the U-11. 
Specifications
Edit
Powerplant: Two Lycoming IO-540-C4B5 piston engines
Top speed: 215 mph
Range: 1,519 miles
Ceiling: 18,950 ft
Crew: 1
Capacity: 5 passengers
Empty weight: 3,180 lbs
Length: 31 ft 2.75 in
Height: 10 ft 4 in
Wingspan: 37 ft 2.5 in
Ad blocker interference detected!
Wikia is a free-to-use site that makes money from advertising. We have a modified experience for viewers using ad blockers

Wikia is not accessible if you've made further modifications. Remove the custom ad blocker rule(s) and the page will load as expected.