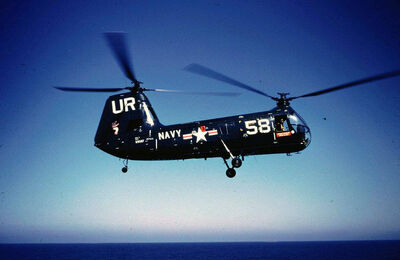 The Piasecki HUP Retriever (or H-25 Army Mule) was an American tandem-rotor utility helicopter developed by Piasecki Helicopter in the late 1940s.
Design work on the Retriever began in 1945, when the US Navy began a competition for a compact utility helicopter that could be operated from large warships such as aircraft carriers or battleships. The first prototype, the XHJP-1, first flew in March, 1948. The design was selected, and it entered service in 1949. 
The HUP was used mainly for transport and search and rescue operations. It remained in US service until 1964, and also served with the French and Canadian Navies. 
Specifications
Edit
Powerplant: one Continental R-975-46A radial engine
Maximum speed: 105 mph
Range: 340 miles
Ceiling: 10,000 feet
Crew: 2
Capacity: 4 people
Empty weight: 3,928 lbs
Length: 56 feet 11 inches
Height: 12 feet 6 inches
Rotor diameter: 35 feet
Armament: none
Ad blocker interference detected!
Wikia is a free-to-use site that makes money from advertising. We have a modified experience for viewers using ad blockers

Wikia is not accessible if you've made further modifications. Remove the custom ad blocker rule(s) and the page will load as expected.