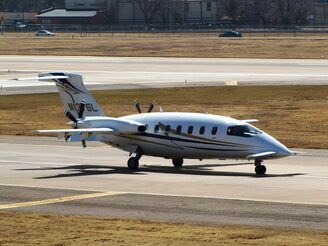 The
Piaggio P.180 Avanti
is an Italian twin-engine turboprop aircraft produced by Piaggio Aero. It seats up to nine passengers in a pressurized cabin, and may be flown by one or two pilots. The innovative design places the main wing at the rear of the aircraft with canards on the nose, features a laminar flow fuselage and has engines in pusher configuration. The first prototype flew on 23 September 1986.
Ad blocker interference detected!
Wikia is a free-to-use site that makes money from advertising. We have a modified experience for viewers using ad blockers

Wikia is not accessible if you've made further modifications. Remove the custom ad blocker rule(s) and the page will load as expected.