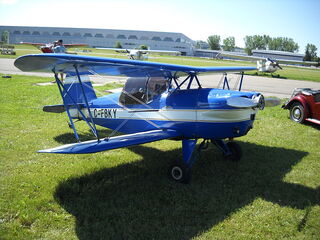 The Oldfield Baby Great Lakes is a homebuilt sport biplane.
Design and development
Edit
The Baby Great Lakes was designed by Barney Oldfield, and originally built by Richard Lane, to be a scaled-down homebuilt derivative of the Great Lakes Sport Trainer.
The Baby Great Lakes is built using 136 ft (41.5 m) of steel tubing for the fuselage with aircraft fabric covering. The wings use spruce spars. The aircraft can accommodate engines ranging from the Continental A-65 to the Volkswagen air-cooled engine.
Ad blocker interference detected!
Wikia is a free-to-use site that makes money from advertising. We have a modified experience for viewers using ad blockers

Wikia is not accessible if you've made further modifications. Remove the custom ad blocker rule(s) and the page will load as expected.