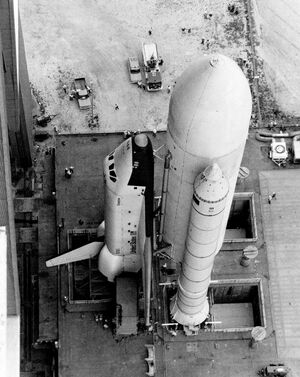 Space Shuttle Enterprise
OV-101
is a
glider
that was originally planned to be a spaceflight capable
spaceplane
. It is an atmospheric flight test article for testing the atmospheric capabilities of the NASA Space Transportation System (STS) Orbital Vehicles (OVs), aka the original operational American
space shuttles
, the
OV-100 series
. OV-101 was originally called
Constitution
, until a write-in campaign by Star Trek fans renamed the ship as "Enterprise" after the fictional starship from the TV show.
[N 1]
Enterprise is the only initial run of test full-up shuttles to survive the NASA STS program, the other two, OV-102 Columbia, and OV-099 Challenger, were both destroyed. Otherwise, only flight-unworthy articles of the build and test era survive, OV-098 Pathfinder and the mockup OV-100 Explorer.
Enterprise currently resides at the Intrepid Air & Space Museum in New York City.
References
Edit
↑

Unfortunately, this prevented the use of the name Enterprise by a space capable orbiter
Ad blocker interference detected!
Wikia is a free-to-use site that makes money from advertising. We have a modified experience for viewers using ad blockers

Wikia is not accessible if you've made further modifications. Remove the custom ad blocker rule(s) and the page will load as expected.