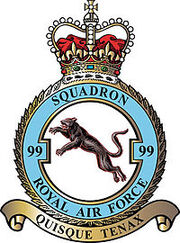 99 Squadron
is a
Royal Air Force
transport unit, operating the
C-17 Globemaster III
.
1917-1920
Edit
99 Squadron was first formed as a Royal Flying Corps bomber squadron, equipped with De Haviland DH4s, on 15th August 1917 at Yatesbury, via the redesignation of an element of 13 Training Squadron. On 1st April 1918, when the Royal Flying Corps and Royal Naval Air Service were combined to form the Royal Air Force, 99 Squadron was based at Ford Farm.[2] The Squadron had progressed to using De Haviland DH9s (1918) and De Haviland DH9As (September 1918)[1] by the time of it's disbandment at Mianwali, India, on 1st April 1920 to become 27 Squadron.[2]
1924-1945
Edit
99 Squadron was reformed, again as a bomber unit, at Netheravon on 1st April 1924.[2] Initially equipped with Vickers Vimys, the squadron progressed to Avro Aldershots (May 1924), Hyderbands (Late 1925), Hinaldis (1929), Heyfords (November 1933) and Mk I Wellingtons (October 1938),[1] which the unit were using in April 1939, when Unit Code VF was adopted. Following the decleration of war in September 1939, the Unit code was changed to LN, which was worn on the unit's aircraft until February 1942.[2] 99 Squadron was disbanded in the Cocos Islands on 15th November 1945, by which time it was operating Consolidated liberators.
1947-1976
Edit
99 Squadron was again reformed, this time as a transport unit, at Lyneham on 17th November 1947. initially equipped with Avro Yorks, 99 progressed to Handley Page Hastings and Bristol Britannia aircraft, before being disbanded at Brize Norton on 7th January 1976
References
Edit
Bibliography
Edit
Lake, Alan. Flying Units of the RAF. 1988.
Ad blocker interference detected!
Wikia is a free-to-use site that makes money from advertising. We have a modified experience for viewers using ad blockers

Wikia is not accessible if you've made further modifications. Remove the custom ad blocker rule(s) and the page will load as expected.