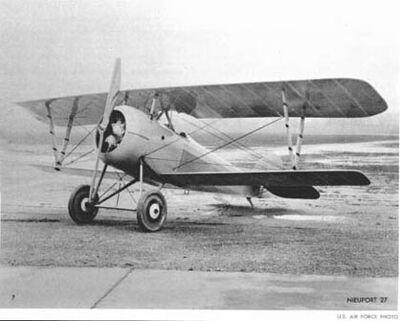 The
Nieuport 27
C.1 was a French, single seat biplane fighter aircraft from World War I.
Development
Edit
The Nieuport 27 was developed by Gustave Delage at the Societé Anonyme des Établissements Nieuport and was the last Nieuport fighter with V-shaped interplane struts, that was used in World War I. The aircraft was based on its predecessors Nieuport 17 and Nieuport 24. The Nieuport 27 had a more aerodynamical fuselage, a modified landing gear and new vertical stabilizators. The wingtips and the ailerons were rounded by Delage.
The power of the Le Rhone-radial engine was improved from 110 horsepower of the Nieuport 17, to 120 horsepower (88 kW). The Nieuport 27 was equipped with a synchronized 7.7 mm Vickers- or Lewis machine gun, which was mounted on the top of the fuselage.
Ad blocker interference detected!
Wikia is a free-to-use site that makes money from advertising. We have a modified experience for viewers using ad blockers

Wikia is not accessible if you've made further modifications. Remove the custom ad blocker rule(s) and the page will load as expected.