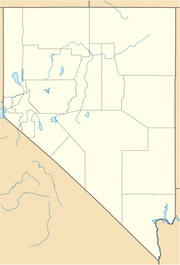 The
Nellis Air Force Base
was named after William Harrell Nellis and is one of the largest military air bases of the United States Air Force (USAF), it is located 11.4 km northeast of Las Vegas, Nevada.
The air base exists since the year 1941 as Las Vegas Army Air Field and was renamed to Nellis Air Force Base on 30th April 1950 in honor of William Harrell Nellis (born on 8th March 1916 in Santa Rita, New Mexico). He was a World War II pilot who was assigned to this Air base, he flew a P-47 Thunderbolt. He was downed on 27th December 1944 over Luxembourg by German ground fire.
The Nellis AFB has its own weapons school and it is the centre for USAF pilot training, it is also called "Home of the Fighter pilot". Nellis Air Force base is the home of the USAF demonstration squadron "Thunderbirds", with their F-16 Fighting Falcon. The "Red Flag" aerial combat exercise is hosted at Nellis Air Force Base, in which aircraft of the United States Air Force and other NATO forces perform very realistic combat exercises.
Ad blocker interference detected!
Wikia is a free-to-use site that makes money from advertising. We have a modified experience for viewers using ad blockers

Wikia is not accessible if you've made further modifications. Remove the custom ad blocker rule(s) and the page will load as expected.