Nature Air
is a Costa Rican regional airline, though they also fly to important destinations in Nicaragua. Due to it's zero-emission airline policy it only includes propeller aircraft in its fleet.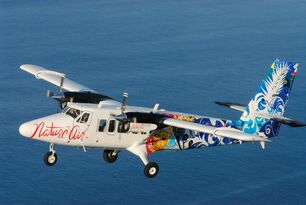 AS OF JULY 2013
Nature Air is the first airline in Costa Rica to sponsor a sports team by transporting it to the zones where rival teams are located. In June 2013 they painted a special aircraft for Deportivo Saprissa to take the teams to some of the league's visitor fields, though it was also announced that it would also operate for scheduled flights.
Ad blocker interference detected!
Wikia is a free-to-use site that makes money from advertising. We have a modified experience for viewers using ad blockers

Wikia is not accessible if you've made further modifications. Remove the custom ad blocker rule(s) and the page will load as expected.