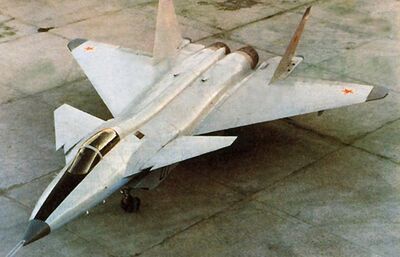 The MiG 1.44 (NATO reporting name: "Flatpack") is an Russian test aircraft for an air superiority Fighter of the MFI project. It is a twin engine, canard winged fighter aircraft with thrust vectoring to boost the agility. However it lost against the Su-47 which was evolved into the PAK-FA.
Description
The Project 1.44 was started in the 1980s, as first design requirements for a new fighter to succeed the
Su-27 Flanker
were made. The MFI project was, in some ways, based on the American
F-22 Raptor
, however the aircraft doesn't have any stealth abilities, due to a lack of knowledge . The MiG MFI had to be agile, fast and

cheap as well as it had to be able to supercruise and it needed to have an advanced avionic suite to be effective in BVR combat.
Ad blocker interference detected!
Wikia is a free-to-use site that makes money from advertising. We have a modified experience for viewers using ad blockers

Wikia is not accessible if you've made further modifications. Remove the custom ad blocker rule(s) and the page will load as expected.