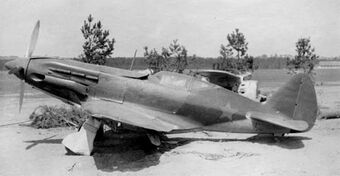 The Mikoyan-Gurevich MiG-3, designed by the Soviet Union, was an upgraded design of the MiG-1. It replaced the MiG-1 on production lines by 1940. 981 were in service by the time Operation Barbarrossa began.
Length: 26 ft 3 in
Wingspan: 33 ft 9.5 in
Wing Area: 189 ft
Maximum Speed: 296 mph (sea level) to 397 mph at 25,590 ft
Rate of Climb: 5.7 min to 16,042 ft
According to some sources, "The MiG-3 was not particularly well liked due in part to control and stability quirks."
OKB MiG, Piotr Butowski and Jay Miller,1991
Ad blocker interference detected!
Wikia is a free-to-use site that makes money from advertising. We have a modified experience for viewers using ad blockers

Wikia is not accessible if you've made further modifications. Remove the custom ad blocker rule(s) and the page will load as expected.