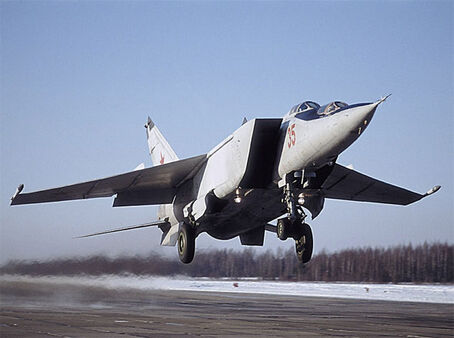 The Mikoyan-Gurevich MiG-25 (NATO reporting name: "Foxbat") is a Soviet-era interceptor jet. It was among the fastest jets when it came out still close to the SR-71 Blackbird. One notable trait on it was the fact that the plane's engines would possibly gain irreparable damage if they were used at speeds above Mach 2.8.
MiG-25 Specifications
Edit
Crew: One
Length: 19.75 m (64 ft 10 in)
Wingspan: 14.01 m (45 ft 11.5 in)
Height: 6.10 m (20 ft 0.25 in)
Wing area: 61.40 m² (660.93 ft²)
Empty weight: 20,000 kg (44,080 lb)
Loaded weight: 36,720 kg (80,952 lb)
Powerplant: 2 × Tumansky R-15B-300 afterburning turbojets

Dry thrust: 73.5 kN (16,524 lbf) each
Thrust with afterburner: 100.1 kN (22,494 lbf) each
Maximum speed:

High altitude: Mach 3.2[10] (3,470 km/h, 2,170 mph); Mach 2.83 (3,200 km/h, 1,920 mph) continuous engine limit[10]
Low altitude: 1,200 km/h[89] (648 knots, 746 mph)

Range: 1,730 km (935 nmi, 1,075 mi) with internal fuel
Ferry range: 2,575 km (1,390 nmi)
Service ceiling: 20,700 m (67,915 ft) with four missiles; over 24,400 m (80,000 ft) for RB models
Rate of climb: 208 m/s (40,950 ft/min)
Wing loading: 598 kg/m² (122.5 lb/ft²)
Thrust/weight: 0.41
Ad blocker interference detected!
Wikia is a free-to-use site that makes money from advertising. We have a modified experience for viewers using ad blockers

Wikia is not accessible if you've made further modifications. Remove the custom ad blocker rule(s) and the page will load as expected.