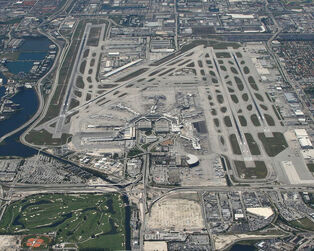 The Miami International Airport (MIA) is a major airport located in the Miami-Dade County, Florida. It's ne of the most important hubs in the United States when it comes to flights to Europe and Africa.
The Airport was founded in 1928, named Pan American Field, being the headquarters of Pan American Airlines. After Pan American Airlines bought the New York, Rio and Buenos Aires Line, it moved operations to the Dinner Key seaplane base. So that Pan American Field was left mostly unused, until in 1934 Eastern Airlines and three years later, National Airlines started flying from there.
These two Airlines were the only operators of Miami Airport until 1991, when both Airlines had to cancel flying due to Insolvency. Their positions in Miami International Airport were taken by American Airlines and United Airlines.
Today multiple airlines from all over the world are using it.
Even when it's not American Airlines' primary hub, MIA has become the most favorite for their Latin American passengers who travel to the United States, specially for those who land to take connection flights to Orlando.
Ad blocker interference detected!
Wikia is a free-to-use site that makes money from advertising. We have a modified experience for viewers using ad blockers

Wikia is not accessible if you've made further modifications. Remove the custom ad blocker rule(s) and the page will load as expected.