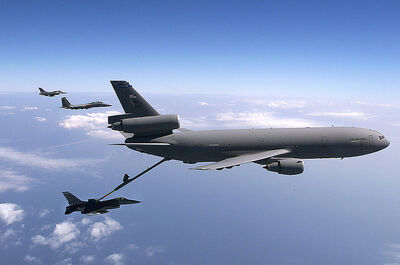 The
McDonnell Douglas KC-10 Extender
is a large tanker and transport aircraft of the US Air Force.
In the middle of the 1970s, the USAF required new tanker aircraft for the near future and thus, the ATCA (Advanced Tanker/Cargo Aircraft) program was started. The reasons for this program were that the large fleet of KC-135 Stratotanker (over 700 units), showed during the Vietnam War, not to be sufficiently capable to refuel all bombers and reconnaissance aircraft in South East Asia, but as well as to refuel long range bombers and transport aircraft over the United States. So the United States Air Force wanted to have a larger and more flexible aircraft for this role. These aircraft should be not too expensive and easy too maintain, to reach this goal, it was decided to modify already in service being wide-body aircraft, like the Boeing 747, the Lockheed L-1011 TriStar and the McDonnell Douglas DC-10. In December of the year 1977, the program was won by McDonnell Douglas and the new tanker aircraft was based on the DC-10.
Ad blocker interference detected!
Wikia is a free-to-use site that makes money from advertising. We have a modified experience for viewers using ad blockers

Wikia is not accessible if you've made further modifications. Remove the custom ad blocker rule(s) and the page will load as expected.