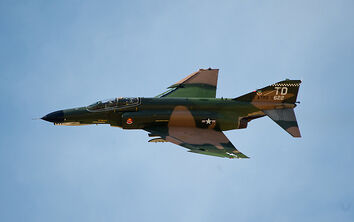 The
F-4 Phantom II
is a twin engine, tandem two seat, long range interceptor aircraft that was used as a fighter-bomber. It was developed in the 1960s by
McDonnell Douglas
. It was used by the US Navy, the
US Air Force
and the US Marine Corps. It was retired from service in 1996.
Length: 63 ft
Width: 38 ft 4.5 in
Wing Area: 530 ft
Maximum Speed: Mach 2.23 (1,472mph)
Rate of Climb: 41,300 ft/min
Thrust/Weight Ratio: 0.86 at loaded weight, 0.58 at MTOW (Maximum Take Off Weight)
Lift to Drag Ratio: 8.58
Ad blocker interference detected!
Wikia is a free-to-use site that makes money from advertising. We have a modified experience for viewers using ad blockers

Wikia is not accessible if you've made further modifications. Remove the custom ad blocker rule(s) and the page will load as expected.