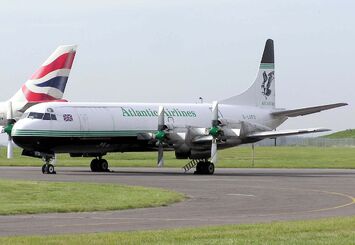 The
Lockheed L-188 Electra
is a four engined turboprop airliner manufactured by Lockheed. It was Lockheed's first attempt to get into the modern civil market. It was produced from 1957 to 1961 with 170 airframes built in total. The aircraft had a troubling career with two fatal crashes but went pretty smoothly after that when extensive modifications were made to the airframe. After that no new orders were placed. Out of the 170 aircraft built, 56 have been lost. There are two airlines that use the L-188, Buffalo Airways (4), and Atlantic Airlines (7). Those are the only aircraft still in airline service.
Ad blocker interference detected!
Wikia is a free-to-use site that makes money from advertising. We have a modified experience for viewers using ad blockers

Wikia is not accessible if you've made further modifications. Remove the custom ad blocker rule(s) and the page will load as expected.