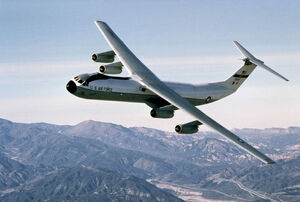 The Lockheed C-141 Starlifter was a military strategic airlifter in service with the United States Air Force. Introduced to replace slower piston-engined cargo planes such as the C-124 Globemaster II, the C-141 was designed to requirements set in 1960 and first flew in 1963. Production deliveries of an eventual 285 planes began in 1965: 284 for the Military Airlift Command, and one for NASA. The aircraft remained in service for almost 40 years until the USAF withdrew the C-141 from service on 5 May 2006, replacing the aircraft with the C-17 Globemaster III.
Design and development
Edit
In the early 1960s, the United States Air Force Military Air Transport Service relied on a substantial number of propeller-driven aircraft. As these aircraft were mostly obsolescent designs and the Air Force needed the benefits of jet power, the USAF ordered 48 Boeing C-135 Stratolifters as an interim step. The C-135 was a useful stop-gap, but only had side-loading doors and most bulky and outsize equipment would not fit.
In the spring of 1960 the Air Force released Specific Operational Requirement 182, calling for a new aircraft that would be capable of performing both strategic and tactical airlift missions. The strategic role demanded that the aircraft be capable of missions with a radius of at least 3,500 nautical miles (4,000 miles, 6,500 km) with a 60,000 pound (27,000 kg) load. The tactical role required it to be able to perform low-altitude air drops of supplies, and carry and drop paratroops in combat.[1] Several companies responded to SOR 182, including Boeing, Lockheed and General Dynamics.[2]
Lockheed responded to the requirement with a unique design: the Lockheed Model 300, the first large jet designed from the start to carry freight. The Model 300 had a swept high-mounted wing with four 21,000 pound thrust TF33 turbofan engines pod-mounted below the wings. An important aspect was the cabin floor's height of only 50 in (1.27 m) above the ground, allowing easy access to the cabin through the rear doors. The two rear side doors were designed to allow the aircraft to drop paratroopers (in August 1965 the type performed the first paratroop drop from a jet-powered aircraft). The rear cargo doors could be opened in flight to allow airborne freight drops. The shoulder-mounted wings gave internal clearance in the cargo hold of 10ft (3.05m) wide, 9ft (2.74m) high and 70ft (21.34m) long. The size enabled the Starlifter to carry, for example, a complete LGM-30 Minuteman ballistic missile in its container. The aircraft was capable of carrying a maximum of 70,847 lbs over short distances, and up to 92,000 lbs in the version configured to carry the Minuteman, which stripped other equipment. The aircraft could also carry up to 154 troops, or 123 fully-equipped paratroopers.
President John F. Kennedy's first official act after his inauguration was to order the development of the Lockheed 300 on March 13, 1961, with a contract for five aircraft for test and evaluation to be designated the C-141. One unusual aspect of the aircraft was that it was designed to meet both military and civil airworthiness standards. The prototype C-141A serial number 61-2775 was manufactured and assembled in record time, being rolled out of the factory at Marietta, Georgia on 22 August 1963 and first flying on 17 December, the 60th anniversary of the Wright brothers' first flight. The company and the Air Force then started an operational testing program and the delivery of 284 aircraft, initially to units of the MATS (later renamed Military Airlift Command).
An effort to sell the aircraft on the civilian market resulted in provisional orders from Flying Tiger Line and Slick Airways for four aircraft each. These were to be a stretched version, 37 ft (11.28m) longer than the C-141A, and marketed as the SuperstarLifter. The development was not proceeded with and only one civilian demonstration aircraft (later to NASA) was built.
Operational history
Edit
The prototype and development aircraft then began an intensive operational testing program including the first delivery to MATS on the 19 October 1964 to Tinker Air Force Base, Oklahoma. Testing continued and a Federal Aviation Authority type certificate was awarded on 29 January 1965. The first delivery to an operational unit was on the 23 April 1965 to Travis Air Force Base, California. Although operational testing continued the Air Force needs due the involvement in South Vietnam soon had aircraft involved in operational sorties to the combat zone.
On 16 September 2004 the C-141 left service with nearly all active duty USAF units, being confined to reserve units for the remainder of its service life. As of 25 September 2005, there were only eight C-141 aircraft still flying (all from the 445th Airlift Wing at Wright-Patterson AFB). In 2004, 2005, and 2006, the C-141s stationed at WPAFB participated in missions to Iraq and Afghanistan, mostly for the medical evacuation of wounded service members.
One of these last eight aircraft was the Hanoi Taxi (tail number 66-0177), which was one of the same aircraft used in 1973, for Operation Homecoming in the final days of the Vietnam War, to repatriate American POWs from North Vietnam. The Air Force repainted this aircraft in the same livery as it wore in 1973 as the final year of Starlifter operations approached. Framed photographs, plaques, and other memorabilia adorn the interior, suiting the aircraft for use as a "flying museum", a role it has filled at the Dayton Air Show and other venues.
With the 2006 announcement of the retirement of these last eight C-141s, the Hanoi Taxi embarked on a series of flights, giving veterans, some of whom flew out of captivity in this aircraft, the opportunity to experience one more flight before retirement. At 9:30 AM on Saturday, 6 May 2006, the Hanoi Taxi landed for the last time and was received in a formal retirement ceremony at the National Museum of the United States Air Force, located at Wright-Patterson Air Force Base in Riverside, Ohio near Dayton. The Hanoi Taxi is now part of the permanent static display collection of the Museum.[1]
The original Starlifter model, designated C-141A, could carry 138 passengers, 80 litters for wounded, or ten standard 463L master pallets with a total of 62,700 pounds (28,900 kg) of cargo. The C-141 could also carry specialized cargoes, such as the Minuteman missile. It was soon discovered that the aircraft's volume capacity was relatively low in comparison to its lifting capacity; it generally ran out of physical space long before it hit its weight limit.
NASA obtained Lockheed's C-141 demonstrator, designated L-300.[3][4] The airplane was modified to house the Kuiper Airborne Observatory telescope for use at very high altitudes. This NASA NC-141A is now in storage at NASA Ames Research Center, CA.[3]
In service, the C-141 proved to "bulk out" before it "massed out", meaning that it often had additional lift capacity that went wasted because the cargo hold was too full. To correct the perceived deficiencies of the original model and utilize the C-141 to the fullest of its capabilities, the entire fleet of 270 in-service C-141As were stretched, adding needed payload volume. These modified aircraft were designated C-141B. Additional 'plug' sections were added before and after the wings, lengthening the fuselage by 23 ft 4 in (7.11 m) and allowing the carriage of 103 litters for wounded, 13 standard pallets, 205 troops, 168 paratroopers, or an equivalent increase in other loads. Also added at this time was a boom receptacle for inflight refueling. The conversion program took place between 1977 and 1982, with first delivery taking place in December 1979. It was estimated that this stretching program was the equivalent of buying 90 new aircraft, in terms of increased capacity.
In 1994, a total of 13 C-141Bs were given SOLL II (Special Operations Low-Level II) modifications, which gave the aircraft a low-level night flying capability, enhanced navigation equipment, and improved defensive countermeasures. These aircraft were operated by AMC in conjunction with Air Force Special Operations Command. At one time, these aircraft were slated to be replaced by special-purpose new-build C-17s.
A total of 63 C-141s were upgraded throughout the 1990s to C-141C status, with improved avionics and navigation systems, to keep them up to date until C-17s were available to replace them. This variant introduced some of the first glass cockpit technology to the aircraft, as well as improving reliability by replacing some mechanical and electromechanical components with their electronic equivalents.
Operators
Edit
Survivors
Edit
Specifications (C-141B Starlifter)
Edit
Crew: 5–6
Length: 168 ft 4 in (51.3 m)
Span: 160 ft 0 in (48.8 m)
Height: 39 ft 3 in (12 m)
Wing area: 3,228 ft² (300 m²)
Empty weight: 144,492 lb (65,542 kg
Loaded weight
Max takeoff weight main=323,100 lb (147,000 kg
Powerplant: 4 Pratt & Whitney TF33-P-7 turbofans, 20,250 lbf (90.1 kN) each
Max speed main=567 mph (493 knots, 912 km/h)
Range: 2,935 mi (2,550 nm, 4,723 km)
Ferry range: 6,140 mi (5,330 nm, 9,880 km) unrefueled
Ceiling main=41,000 ft (12,500 m)
Climb rate: 2,600 ft (792 m)/min
Wing loading: 100.1 lb/ft² (490 kg/m²)
Thrust/weight Ratio: 0.25
References
Edit

History of C-141 Further reading
External links
Edit
Template:Lockheed Template:USAF transports Template:Aviation lists
Ad blocker interference detected!
Wikia is a free-to-use site that makes money from advertising. We have a modified experience for viewers using ad blockers

Wikia is not accessible if you've made further modifications. Remove the custom ad blocker rule(s) and the page will load as expected.