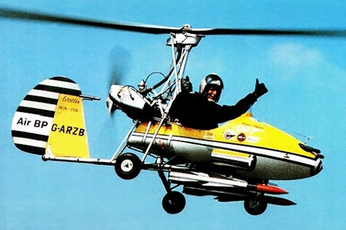 Little Nellie is a Wallis WA-116 Agile gyrocopter type autogiro featured in the James Bond 007 film "You Only Live Twice" as a Q-Branch invention. It carries the tailnumber G-ARZB
The book "Little Nellie 007" ISBN 978-0-907595-75-5 reveals filming of the film, and information about the aircraft.
The submarine "Wet Nellie" from the James Bond 007 film The Spy Who Loved Me is named after Little Nellie.
Ad blocker interference detected!
Wikia is a free-to-use site that makes money from advertising. We have a modified experience for viewers using ad blockers

Wikia is not accessible if you've made further modifications. Remove the custom ad blocker rule(s) and the page will load as expected.