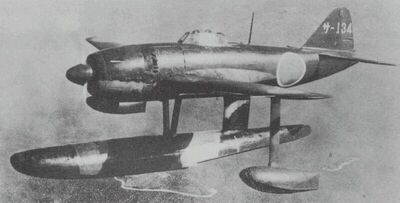 The
N1K1 Kyofu
(allied codename:
Rex
) was a carrier-based interceptor aircraft that was used by the Japanese Imperial Navy during World War II.
Originally, the N1K was designed as a floatplane fighter. However, it was decided that it wouldn't be capable enough to replace, for example, the A6M-2N, which was only a floatplane fighter. The N1K aircraft was instead designed to support ground troops until coastal airfields were captured, so that land-based aircraft could be based there. An unsuccessful attempt was made to make the main floats retractable.
The first engine was a Mitsubishi MK4C Kasei 13, with a power of 1,460 hp. The fighter was equipped with two 7.7 mm machine guns and two 20 mm cannons.
The first flight took place on 6th May 1942. After it entered service in July 1943, however, it was realized that the N1K performed below expectations when in combat with enemy fighters. The Kyofu was cancelled after 105 built aircraft.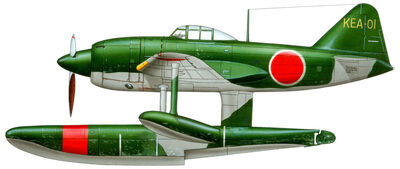 Ad blocker interference detected!
Wikia is a free-to-use site that makes money from advertising. We have a modified experience for viewers using ad blockers

Wikia is not accessible if you've made further modifications. Remove the custom ad blocker rule(s) and the page will load as expected.