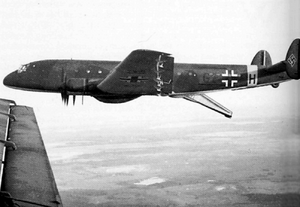 The Ju-90 was a civilian transport aircraft developed from the experimental Ju-89 strategic bomber design.
Development
Edit
Following the realisation that the Ju-89 programme was about to be abandoned, the Junkers company received permission to use the major components of the third aircraft, Ju-89 V3 (c/n 4913), to develop a transport aircraft for
Lufthansa
. The only stipulation from the RLM was the use of a different engine type by subsequant examples, in place of the 960 hp Damiler Benz DB 600 engines originally fitted. This led to 4913's wings, tail assembly and engines being combined with a new rectangular section, duralumin and steel monocoque
fuselage, the resulting aircraft being redesignasted Ju-90 V1. Registered D-AALU and named
Der Grosse Dessauer
, the Ju 90 V1 made it's first flight on 28 August 1937, only to crash on 6 February 1938 while conducting flutter tests.
[2]
References
Edit
↑ Kay, Antony L and J R Smith. German Aircraft of the Second World War. Putnam Aeronautical Books. ISBN 0 85177 920 4 Page 208
Ad blocker interference detected!
Wikia is a free-to-use site that makes money from advertising. We have a modified experience for viewers using ad blockers

Wikia is not accessible if you've made further modifications. Remove the custom ad blocker rule(s) and the page will load as expected.