The
Xian JH-7
(NATO codename:
"Flounder"
) is a twin engine Chinese fighter-bomber that was developed by Xi´an Aircraft. It was the first Chinese combat aircraft, that is not based on a Russian aircraft. The JH-7 is also called FBC-1
Flying Leopard
.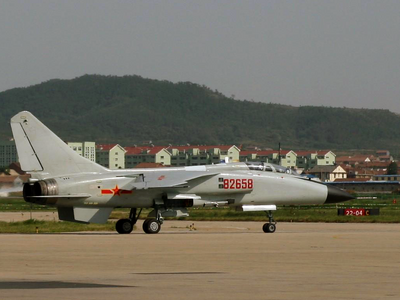 In the middle of the 1980s, China searched for a replacement for the Harbin H-5 and Nanchang Q-5. So that the JH-7 was developed, which had its first flight on 14th December 1988. The aircraft was designed to be a Multirole aircraft and should fullfill the needs of the Navy and the Air Force. But because the JH-7 did not fullfill the criteria of the Air Force, only 40 units of the first variant were built and only used by the Navy. After the success of the Dassault Super Etendard in the Falklands-War, the Navy variant got priority and development of an Air Force derivative was stopped prematurely. Development of the Air Force JH-7 was later restarted and a modified JH-7A was built, which was slightlier and more modern than the Navy JH-7. The WS-9 engine was chosen in 1983, which is a under license built Rolls-Royce RB.168 Spey Mk202. The first flight of the JH-7A for the Air Force was on 1st July 2002. The cockpit is equipped with Multifunction-displays (MFD) and a Pulse-Doppler radar, which allows it to use laser-,radar- and TV guided missiles. Since 2004 100 aircraft are in use by the Navy and Air Force.
Ad blocker interference detected!
Wikia is a free-to-use site that makes money from advertising. We have a modified experience for viewers using ad blockers

Wikia is not accessible if you've made further modifications. Remove the custom ad blocker rule(s) and the page will load as expected.