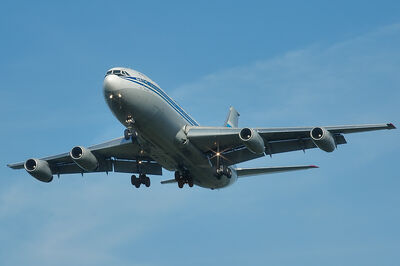 The
Ilyushin Il-86
(NATO codename
Camber
) is a four engine long-range jet airliner designed the
Ilyushin Design Bureau
, a Russian aerospace company.
Work on the aircraft began with the construction of three prototypes, including one for static testing, which began in 1974, with the first prototype making it's maiden flight on 22nd December 1976. The first production example followed in October 1977. Aeroflot received it's first example in September 1979, and inaugurated domestic services with the type in December 1980, with international services commencing in July 1981.[1]
However, the aircraft failed to live up to expectations, resulting in production being terminated in 1993 after the completion of 108 examples, which included four Il-87 Almark Maxdome aircraft. Also known as the Il-80 and Il-86VKP[N 1], this variant serves as a windowless aerial command post, with fairings and pods attached to the airframe, and an interior filled with command and communication equipment, which has been hardened to protect it from the electro-magnetic pulse effects of a nuclear explosion.[2]
The basic configeration was adopted for the more advanced Ilyushin Il-96.[2]
References
Edit
↑ Vozdushnyye Komanandnyye Punkt = Airborn command post
↑

World Aircraft Information Files Aviation Partwork. Midsummer Books Ltd. File 897 Sheet 5 (A-Z of Aircraft:I - Ilyushin Il-38 'May' (continued) to Ilyushin Il-86 'Camber' and 'Maxdome' and Il-96)
Ad blocker interference detected!
Wikia is a free-to-use site that makes money from advertising. We have a modified experience for viewers using ad blockers

Wikia is not accessible if you've made further modifications. Remove the custom ad blocker rule(s) and the page will load as expected.