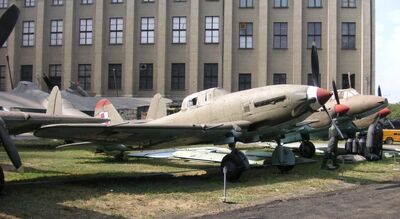 The
Ilyushin Il-10
(Russian: Ильюшин Ил-10, NATO codename: "Beast") was a single engine, heavily armoured Soviet ground attack aircraft. It was used during World War II as the successor to the Il-2 Sturmovik. It was also used during the Korea War, but because of its aged design, many aircraft were lost. The Czechoslovakian manufacturer Avia made over 1,200 license built Il-10 and called them Avia B-33
In the year 1944 Ilyushin started developing a single seat fighter/fighter-bomber, based on the Il-2 to engage German bombers at a ceiling up to 4,000m. For this role the cockpit was completely redesigned and modernized. The undercarriage was now fully retractable. The aircraft was also equipped with a new more powerful engine and the aerodynamics were enhanced as well. From now on it was an all-metal construction and was not built of a mixture of wood and metal anymore. On 19th May 1944 the prototype had its first flight under the specification Il-1. This variant was not mass produced, instead of it a double seat derivative was made and entered service in autumn 1944.
It was first used in combat on 2nd February 1945 over Sprottau; till the end of the War about 100 aircraft were built. Production was continued after the War and ended in the 1950´s; in that time about 4,966 aircraft were built. It was used in Bulgaria, Hungary, Poland, China and Yugoslavia. After the Il-20 was terminated it was decided to build an upgraded Il-10M. It was larger, had a wider wingspan and it had larger control surfaces.
Ad blocker interference detected!
Wikia is a free-to-use site that makes money from advertising. We have a modified experience for viewers using ad blockers

Wikia is not accessible if you've made further modifications. Remove the custom ad blocker rule(s) and the page will load as expected.