The
IAR 80
was a Romanian World War II low-wing, monoplane, all-metal monocoque fighter and ground-
attack aircraft. When it first flew, in 1939, it was comparable to contemporary designs such as the German
Messerschmitt Bf 109B
, the British
 Hawker Hurricane Mk.I
, and the American
Curtiss P-40B Tomahawk Mk.I
and superior to the Dutch
Fokker D.XXI
and Polish
PZL P.24
. However, production problems and lack of available armament delayed entry of the IAR 80 into service until 1941. It remained in front-line use until 1944.
Development
Edit
In order to ensure that the Royal Romanian Air Force or (ARR) could continue to be supplied with aircraft in time of war, the government subsidized the creation of three major aircraft manufacturers in the 1920s and 1930s. The first was Societatea pentru Exploatări Tehnice (SET) which was formed in Bucharest in 1923. Next came Industria Aeronautică Română (IAR) which set up shop in Braşov in 1925. Finally there was Intreprinderea de Construcţii Aeronautice Romaneşti (ICAR), which was founded in Bucharest in 1932.
In 1930 the Romanian government issued specifications for a new fighter. Although the government was not anticipating bids from its own aircraft industry, IAR produced several prototypes in response to the tender.
The contract was eventually won by the Polish
PZL P.11
. The FARR purchased 50 of a modified version called the P.11b, all of which were delivered in 1934. A second contest was also fought between the newer IAR.24 and PZL P.24 designs, and once again the PZL design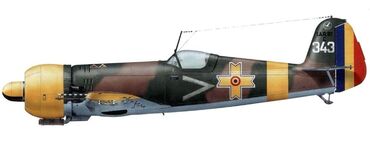 won a contract for another 50 aircraft.
Although IAR's own designs had not entered production, they nevertheless won the contracts to build PZLs and Gnome-Rhone 14K engines under license. As a result of these and other license contracts the company had enough money to fund a design shop even if its designs never saw production.
Despite losing to PZL, an IAR design team led by Dr. Ion Grosu continued work on fighter designs. He was convinced that the low wing design of the IAR.24 represented a better design than the PZL gull-wing design, which was often referred to as the "Polish wing". Once again the team studied the new PZL fighter looking to incorporate its best features into a new aircraft, and the result was the IAR.80.
Ad blocker interference detected!
Wikia is a free-to-use site that makes money from advertising. We have a modified experience for viewers using ad blockers

Wikia is not accessible if you've made further modifications. Remove the custom ad blocker rule(s) and the page will load as expected.