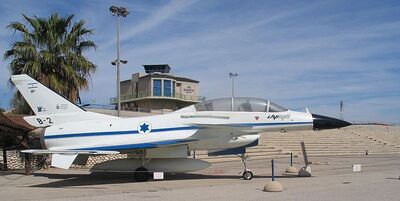 The
IAI Lavi
(Hebrew: לביא="Lion") was an Israeli prototype for a fourth generation fighter aircraft.
History and Design
Edit
Development of the Lavi was started in the year 1982, by Israel Aerospace Industries (IAI). The delta- and canard-wing aircraft was powered by a single Pratt & Whitney PW1120 engine.
The first flight of the Lavi took place in December of the year 1986. The results of flight testing were good, but after the second prototype was finished, the project was cancelled because of financial problems. And the USA rejected the commitment to split the costs between them and Israel (it was planned that 40 per-cents of the cost would have been paid by the United States), because the fighter could emerge as a competitor to the F-16 Fighting Falcon and F/A-18 Hornet on export market. IAI was unsuccessful with trying to continue the project and with requesting help from the Israeli Military and government, even though a company-funded third prototype was finished.
Ad blocker interference detected!
Wikia is a free-to-use site that makes money from advertising. We have a modified experience for viewers using ad blockers

Wikia is not accessible if you've made further modifications. Remove the custom ad blocker rule(s) and the page will load as expected.