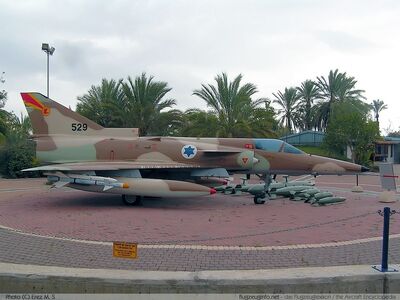 The
IAI Kfir
(Hebrew:
כְּפִיר
="Lion Cub") is an Israeli figther-bomber jet aircraft  that entered service in 1976.
The Kfir was developed from the French Dassault Mirage 5, which was heavily modified to use Israeli avionics and a General Electric J79 engine, which gave it a top speed of 1,516 mph. It first flew in June, 1973 performing well enough to enter production and service, with over 220 being built. The Kfir was also used by the US Navy and US Marine Corps as adversary aircraft for Dissimilar Air Combat Training (DACT), and is still used by Columbia, Sri Lanka, and Ecuador.  
The Kfir can be armed with two 30 mm cannons, 12,780 lbs of bombs, two missles of varying types, and/or a variety of air-to-ground rockets. It needs just one pilot, has a combat radius of 477 miles, and a service ceiling of 58,000 feet. It was retired from Israeli service in 1996.      
A number of Kfirs are flown by Escuadron 213 in the air defense role, operating as part of Comando Aereo de Combate 1 (CACOM 1), Grupo 2, based at Base Aera 'German Olano', Palanquero.[1]
Acquired 12 Kfir C2s and a pair of two seat TC2s in 1982. These are operated by Escuadron de Caza 2113, primarily for the air defence and interception role, although the pilots also train for fighter bomber operations. The Kfirs were used in the 1995 conflict with Peru, achieving three confirmed aerial kills.[2] A third TC2 was delivered prior to 1996, when an order for an additional four TC2s was placed, with options for another four.[3]
Sri Lanka
Edit
A dozen Kfir C-1s were obtained on short term lease by the Department of Defense, pending delivery of the F-16N. Taken out of storage at Haztor, the USN aircraft were assigned to VF-43 'Challengers', who flew 9,700 hours over the course of 9,800 sorties, before relinquishing the Kfirs in March 1988.[3]
United States - US Marine Corps
Edit
Thirteen Kfir C-2 aircraft were leased by the USMC between August 1987 and September 1989. Operated as the F-21A by VMFT-401, based at MCAS Yuma, the Kfirs were returned to Israel following replacement by F-5Es.[4]
References
Edit
↑

World Aircraft information Files. File 344 Sheet 1 (Air Forces of the World:South America (North) - Colombia (Fuerza Aerea Colombiana) )

↑

World Aircraft Information Files Aviation Partwork. Midsummer Books Ltd. File 156 Sheet 1 (World Military Aircraft:IAI Kfir - Desert Lion)

↑ 3.0 3.1

World Aircraft information Files. File 156 Sheet 2 (World Military Aircraft:IAI Kfir - Briefing)

↑

Take Off magazine. Aerospace Publishing Ltd. 1994-1996. Aircraft Reference File 1653
Ad blocker interference detected!
Wikia is a free-to-use site that makes money from advertising. We have a modified experience for viewers using ad blockers

Wikia is not accessible if you've made further modifications. Remove the custom ad blocker rule(s) and the page will load as expected.