Hindustan Aeronautics is an Indian aircraft manufacturer that was formed in 1940. They built the HF-24 Marut, HJT-16 Kiran "Ray of Light", HAL Dhruv, HAL LCH, and the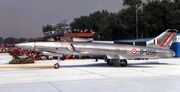 HAL Tejas.
Hindustan Aeronautics was founded by Seth Walchand Hirachand, in the year 1940, at this time, it was named Hindustan Aeronautics.
Ad blocker interference detected!
Wikia is a free-to-use site that makes money from advertising. We have a modified experience for viewers using ad blockers

Wikia is not accessible if you've made further modifications. Remove the custom ad blocker rule(s) and the page will load as expected.