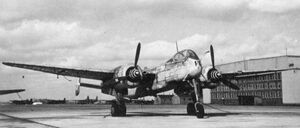 The Heinkel He 219 "Uhu" was a German, twin-engine night-fighter, that was used during World War II. It was the first aircraft of the Luftwaffe to be equipped with ejection seats and the first World War II-era aircraft with a tricycle landing gear. The aircraft was also equipped with a Lichtenstein radar. Development of the aircraft had many problems and delays, caused by rivalries between Josef Kammhuber, commander of the German night fighter forces, Ernst Heinkel, the manufacturer, and Erhard Milch, responsible for aircraft construction in the Reichsluftfahrtministerium, so that only small numbers were built.
The He 219 was developed from a private venture design intended to provide a single aircraft type capable of fulfilling a number of roles, from torpedo attack to long range air fighting. The type's many innovative features led to the design being rejected by the RLM in 1940. However, a chance visit by Generalmajor JosefKammhuber, head of the Luftwaffe's night fighter branch, resulted in the private venture design being reworked for the night fighter role, with the designation He 219, in the face of serious and determined opposition.[2]
The excellence of Heinkel's design meant that only minor modifications to the first prototype were required before it's first flight on 15th November 1942. The type's susceptibility to yaw/roll instability was cured by extension of the rear fuselage, and enlargement of the tail surfaces. The subsequent armament and equipment alterations prompted the RLM to request reduction in the 29 resulting armament variations. Development was also delayed by Allied air raids during march and April 1942, which virtually destroyed all production facilities for the He 219 at Rostock, and resulted is production being dispersed to a number of different sites.[3]
The type made it's operational debut on the night of 11th-12th June 1943, when Major Werner Streib, Gruppenkommandeur of 1 Gruppe of Nachtjagdgeschwader 1 based at Venlo in the Netherlands, used a pre production He 219A-0 for a live interception mission. Assisted by his radar observer, Unteroffizier Fischer, Streib allegedly destroyed five RAF bombers, only for the aircraft to break up on landing, due to a high speed landing resulting from flap failure. Fortunately Streib and Fischer were unharmed and, during six sorties flown over the next ten days, Streib's unit destroyed an additional 20 RAF aircraft, including six De Havilland Mosquitos, which had previously been considered invulnerable.[4]
References
Edit
↑ He 219 entry on the Flight Simulator Aircraft Catalogue
↑ Brown, Eric Melrose. Wings of the Luftwaffe. Airlife Publishing Ltd. 2001 (Softcover reprint). ISBN 1 85310 413 2 Page 142
↑

World Aircraft Information Files Aviation Partwork. Midsummer Books Ltd. File 152 Sheet 1 (World Military Aircraft:Heinkel He 219 Uhu - Heinkel's Owl)

↑

Brown, Eric Melrose. Page 144
Ad blocker interference detected!
Wikia is a free-to-use site that makes money from advertising. We have a modified experience for viewers using ad blockers

Wikia is not accessible if you've made further modifications. Remove the custom ad blocker rule(s) and the page will load as expected.