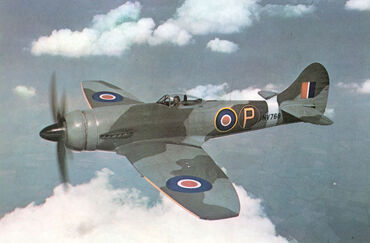 The
Hawker Tempest
was Britain's most successful fighter next to the
Supermarine Spitfire
during WWII. The Tempest scored 20 kills against the
Me 262
jet fighter and the V-1 flying bombs. There were two different versions of the Tempest. The first version (Tempest V) was powered by a Napier Sabre 24-cylinder flat-H engine; while the second version (Tempest II) was powered by a Bristol Centaurus V radial.

Development
Edit
A development of the Hawker Typhoon with a thinner semi elliptic wing, two prototypes of the Hawker Tempest was initially ordered under Specification F.10/41 in November 1941 as the Typhoon II, before the numerous changes resulted in the name being changed to Tempest.[1] Designated Tempest Mk I, these featured a longer forward fuselage to hold more fuel, to compensate for the reduction in fuel tankage resulting from the thinner wing, and a 2,340 hp Sabre IV engine with wing leading edge radiators. These were followed by an additional four prototypes, which were ordered to permit the testing of alternative engines.[2] The Tempest was later followed by the Hawker Fury. [3]
RAF Service
Edit
Service with other nations
Edit
Following Indian independence, the Indian Air force received 89 former RAF Tempest II aircraft. [2]
Pakistan received 24 Tempest IIs.[2]
Comparable Aircraft
Edit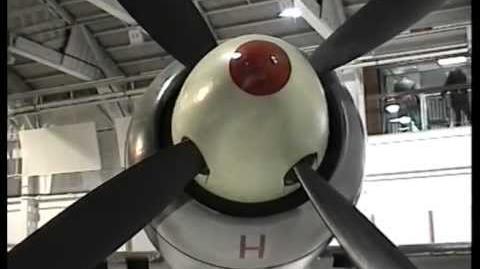 References
Edit
↑ Gunston, Bill. The Illustrated Directory of Fighting Aircraft of World War II. Salamander Books. 1988. ISBN 0 86101 390 5
↑ 2.0 2.1 2.2 Green, William and Gordon Swanborough. The Complete Book of Fighters. Salamander Books. 2001. ISBN 0 84065 269 1 Page 288
↑

Green, William and Gordon Swanborough. Page 289
Ad blocker interference detected!
Wikia is a free-to-use site that makes money from advertising. We have a modified experience for viewers using ad blockers

Wikia is not accessible if you've made further modifications. Remove the custom ad blocker rule(s) and the page will load as expected.