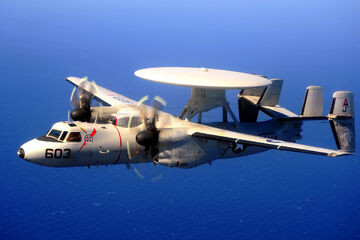 The
Grumman E-2 Hawkeye
is a carrier-based American AWACS aircraft, that is powered by two turboprop engines and is all-weather capable.
Development of the E-2 started in the late 1950s, with the aim of creating a replacement for the aging E-1 Tracer of the United States Navy. The prototype was first flown on 21st October 1960 and the aircraft was first introduced in January 1964, entering service with VAW-11 of the US Pacific fleet. This unit undertook the types first combat cruise in late 1965.[1]
The capabilities of the E-2A were improved with the introduction of the E-2B in 1969, which was equipped with a Litton L-304 digital mission computer. This was followed by the E-2C, dubbed Hawkeye II due to the extensive improvements over earlier versions, and which entered service with VAW-123 in November 1973.[1] The latest Hawkeye variant is the E-2D, which made its first flight in the year 2007.
Egypt
France
Israel
Japan
Mexico
Singapore
Taiwan

References
Edit
Ad blocker interference detected!
Wikia is a free-to-use site that makes money from advertising. We have a modified experience for viewers using ad blockers

Wikia is not accessible if you've made further modifications. Remove the custom ad blocker rule(s) and the page will load as expected.