General Dynamics F-16 Fighting Falcon
Talk

0
811pages on
this wiki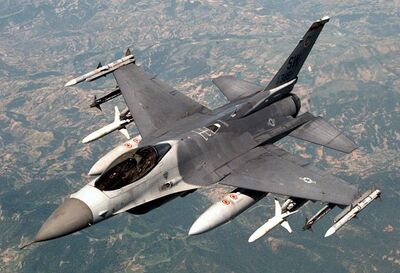 The
F-16 Fighting Falcon
is an
American
multirole
jet
fighter aircraft
developed by
General Dynamics
and
Lockheed Martin
for the
United States Air Force
. Designed as a lightweight fighter, it evolved into a successful multirole aircraft. The Falcon's versatility is a paramount reason it was a success on the export market, serving 24 countries. The F-16 is the largest Western fighter program with over 4,000 aircraft built since production started in 1976. Though no longer produced for the US Air Force, it is still produced for export and it is in in operation by the US Airforce, Israel, Pakistan, Turkey, Netherlands, Belgium, Royal Dansih Air Force, and the Royal Norwegian Air Force. It has been retired by the Italian Air Force.
[1]
Click here to see a 3D Render of a F-16 Fighting Falcon.
Description
Edit
The Fighting Falcon is a dogfighter with innovations including a frameless, bubble canopy for better visibility, side-mounted control stick to ease control while under high g-forces, and reclined seat to reduce the effect of g-forces on the pilot. It was also the first fighter aircraft to be deliberately built to sustain 9g turns. It is also one of the few jets with a thrust-to-weight ratio greater than one, giving the Falcon excellent acceleration and turning performance.
Development
Edit
Development of the F-16 began in 1965, when the USAF prompted studies into a low cost high performance aircraft designed to serve as an Advanced Day Fighter. This ADF was intended to weigh 25,000 lb (11,340 kg), providing a sufficiently high thrust to weight ratio and wing loading to provide 25% superiority over the MiG-21. This led to the F-X fighter study carried out during 1966-1967, which eventually resulted in the USAF buying examples of the A-7D for air to ground attack duties.
In 1969, a Pentagon memo on tactical air power suggested that the USAF and USN should adopt the lightweight F-XX fighter in place of the F-15 and F-14. Although the two services rejected the suggestion David Packard, the new Deputy Defense Secretary, was interested in an asture fighter. This interest resulted in the Lightweight Fighter (LWF) programme, which saw the issuing on 6th January 1972 of a request for proposals embodying the F-XX philosophy. This called for high thrust to weight ratio, load factor of 6.5 g, 20,000 lb (9,072 kg) gross weight and high manoeuvrability. Two months later, the Air Staff selected the Boeing 908-909 as their first choice, followed by the General Dynamics Model 401 and Northrop's Model P-600. The Source Selection Authority later rated the YF-16 (GD 401) and YF-17 (P-600) ahead of the Boeing design. This became the final decision of Robert C. Seamans, Secretary of the Air Force, with the YF-16 progressing to the full scale prototype stage. Beginning with General Dynamic's mid 1960's FX-404 study, and progressing through models 785 and 786 before selecting the 401, the engineering effort headed by Harry J. Hinkler had examined dozens of configurations.[2]
The YF-16 prototype, 72-1567, was rolled out on 13th December 1972 at Fort Worth, before being delivered to Edwards Air Force Base by Lockheed C-5 Galaxy on 8th January 1974. The first flight occurred by accident on 20th January 1974, as test pilot Phil Oestricher was forced to take off due to a rolling divergent oscillation, which manifested itself during high speed taxi trials. Oestricher followed this with the first official flight, which consisted of a 90 minute sortie made on 2nd February, [2]
Air victories:
Edit
(Source:kondor; a member of AboveTopSecret.com; link:http://www.abovetopsecret.com/forum/thread21124/pg2#pid11517607)

28.04.1981 F-16A (Israel) - 2 x Mi-8 (Syria)
14.07.1981 F-16A (Israel) - 1 x MiG-21 (Syria)
26.05.1982 F-16 (Israel) - 3 x MiG-21 (Syria)
7.06.1982 F-16 (Israel) - 1 x MiG-23MF (Syria)
8.06.1982 F-16 (Israel) - 4 x MiG-23BN (Syria)
1 x MiG-21 (Syria)
9.06.1982 F-16A (Israel) - 6 x MiG-21 (Syria)
1 x MiG-23MF (Syria)
10 x fighter (Syria)
10.06.1982 F-16A (Israel) - 2 x SA342 (Syria)
7 x MiG-21 (Syria)
1 x MiG-23MF (Syria)
11.06.1982 F-16A (Israel) - 4 x MiG-21 (Syria)
6 x MiG-23 (Syria)
1 x Su-22 (Syria)
1 x SA342 (Syria)
24.06.1982 F-16A (Israel) - 2 x MiG-23BN (Syria)
17.05.1986 F-16A (Pakistan) - 2 x Su-22 (Afghanistan)
30.03.1987 F-16A (Pakistan) - 1 x An-26 (Afghanistan)
04.1987 F-16A (Pakistan) - 2 x An-26 (Afghanistan)
4 x Mi-8 (Afghanistan)
16.04.1987 F-16A (Pakistan) - 2 x Su-22 (Afghanistan)
08.1987 F-16A (Pakistan) - 1 x An-26 (Afghanistan)
17.05.1988 F-16A (Pakistan) - 2 x Su-22 (Afghanistan)
4.08.1988 F-16A (Pakistan) - 1 x Su-25 (Russia)
3.11.1988 F-16A (Pakistan) - 1 x Su-22 (Afghanistan)
21.11.1988 F-16A (Pakistan) - 1 x An-26 (Afghanistan)
31.01.1989 F-16B (Pakistan) - 1 x An-24 (Russia)
27.11.1992 F-16A (Venezuela) - 2 x OV-10 (Venezuela / rebel)
1 x AT-27 (Venezuela / rebel)
27.12.1992 F-16D (USAF) - 1 x MiG-25 (Iraq)
17.01.1993 F-16C (USAF) - 1 x MiG-23 (Iraq)
4.09.1993 F-16C (Turkey) - 1 x Mirage F1CG (Greece)
28.02.1994 F-16C (USAF) - 5 x J-21 (Serbia)
28.12.1995 F-16C (Greece) - 1 x F-4E (Turkey)
24.03.1999 F-16AM (Holland) - 1 x MiG-29 (Serbia)
4.05.1999 F-16CJ (USAF) - 1 x MiG-29 (Serbia)
8.06.2002 F-16B (Pakistan) - 1 x UAV (India)
2006 F-16 (Israel) - 3 x UAV (Palestine / Hezbollah)
25.02.2009 F-16C (USAF) - 1 x UAV (Iran)
Losses in air to air combat: 1 :
8.10.1996 Mirage 2000EG (Greece) - 1 x F-16D (Turkey)
Gallery
References
Edit
↑ Lockheed Martin, Poland Air Force Celebrate Arrival of Most Advanced F-16 Multirole Fighters in Europe