E-190/195 
models are a larger stretch of the E-170/175 models fitted with a new, larger wing, larger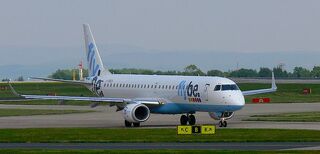 horizontal stabilizer and a new engine, the GE CF34-10E, rated at 18,500 lb (82.30 kN). These aircraft compete with the
Bombardier CRJ-1000
and
CS100
, the
Boeing 717-200
and
737-600
, and the
Airbus A318
.The first flight of the E-190 was on March 12, 2004 (PP-XMA), with the first flight of the E-195 (PP-XMJ) on December 7 of the same year. The launch customer of the E-190 was New York-based low-cost carrier JetBlue with 100 orders and 100 options. British low-cost carrier
Flybe
launched the E-195 with 14 orders and 12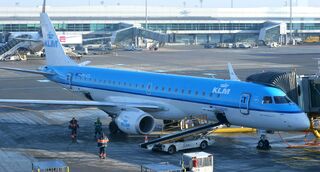 options.As the 190/195 models are of mainline aircraft size, many airlines operate them as such, fitting them with a business class section and operating them themselves, instead of having them flown by a regional airline partner. For example,
Air Canada
operates 45 E-190 aircraft fitted with 9 business-class and 88 economy-class seats as part of its primary fleet.  
The
Ad blocker interference detected!
Wikia is a free-to-use site that makes money from advertising. We have a modified experience for viewers using ad blockers

Wikia is not accessible if you've made further modifications. Remove the custom ad blocker rule(s) and the page will load as expected.