The
Dornier Do 217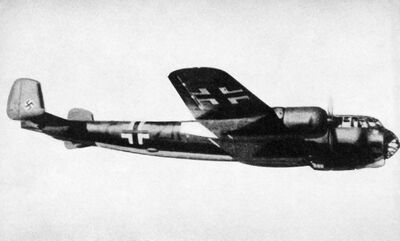 was a twin engine, German bomber aircraft. It entered service in the year 1938 and was operational until the end of the war.
Development
Edit
The design of the Do 217 was based on the Dornier Do 17, but was mainly a new development. It had more powerful engines, which caused a higher weight, a wider wingspan and an enlarged fuselage. All in all nine prototypes were built and tested in different configurations.
The first six prototypes were equipped with a spoiler-like airbrake on the tail, which however did not work correctly. The first prototype Do 217 V1 had its first flight on 4th October 1938, but on 11th October in the same year it crashed during nose-dive testing. The 9th prototype, Do 217 V9, was the basis for the Do-217-E series.
Ad blocker interference detected!
Wikia is a free-to-use site that makes money from advertising. We have a modified experience for viewers using ad blockers

Wikia is not accessible if you've made further modifications. Remove the custom ad blocker rule(s) and the page will load as expected.